Brandy Melville – The Nitty Gritty Review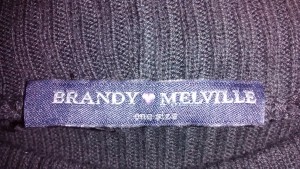 Someone wandered into a Brandy Melville and purchased two sweaters for me for Christmas. Unfortunately, both were short-waisted, meaning a 6-foot gal like me could never wear either without some sort of disastrous social repercussions. Plus one of them had a hole in the collar. Therefore, I elected to return them both. That's when I ran into problems.
Problem #1: Communist Clothes – The store itself is done up in beach-y and shabby chic pastels. That's fine and all. But when ALL of the clothes are black, white, or grey in color, and "one size" fits all, one wonders if there might be a hidden agenda here.
Problem #2: Whore-ishly clad sales clerks – Having been rebuked throughout my life for "too short shorts" or "too tiny a bathing suit," I am not opposed to showing skin. I DO have a problem with promoting the idea that tiny shorts and skirts are appropriate for girls to wear anywhere but to the beach or out dancing, you know, when sitting down will not cause a scene or the spread of VD. The clerks at this store hadn't gotten this memo. How demeaning! If you can't wear the outfit to a job interview, to church, or to meet your boyfriend's grandmother, then you shouldn't be wearing it to a mall or to school.
I'm sick to death of girls dressing like sluts and insisting that they should be allowed to dress like sluts because this is somehow advancing equality for women. Honey, if you were really into advancing this cause, you wouldn't be wearing a $50 bra that jabs, wildly uncomfortable thong underwear, high-heeled shoes that pinch, or makeup that takes you a half-hour to apply – most products, designed by men, by the way. Instead, you'd be wearing no bra, comfy shoes, and zero make-up, and you would expect to be treated the same way, by both men and women, as the girl who's dressed like a slut.
Problem #3: Carnie Return Policy – Printed at the bottom of all Brandy Melville receipts (Don't get me started on the name of the company, by the way. Brandy is a perfectly acceptable name for a pet, NOT for a human female!) is the notification that returns must be made within 14 days. Two weeks! If you're a working girl, you don't have time to get to the grocery store every two weeks, much less to a mall! When I attempted to return the sweaters the poor sales girl, whom I felt much pity for (see problem #2), had to ask her manager for permission to take back the damaged merchandise because it was being returned beyond this time frame.
They wound up agreeing to take back only the damaged sweater, not the other, which I found hysterical since they couldn't add the credit to the charge card. (Apparently, they don't have the capacity to do that sort of thing.) They could only provide store credit. AND the store credit can't be used online. Huh? Your crummy sweater has a hole in it. You admit that, but I must purchase another crummy sweater from your crummy store or else I get nothing in return for my $30? The store's owner must know that his store won't be around that long. He's ensuring that he gets the money up front for the potion he's sold at the carnival.
Weirdness about the Brandy Melville Company – All of the above led me to conduct a bit of research about the company, which, I've come to discover, is a bit bizarre. You can't find any information about a corporate office. Therefore, there is no contact information for whom to write a letter. The wimpy Brandy (gag) Melville website is photo-heavy, and fact-feeble.
The company owner, Stephan Marsan, who comes from Italy, applied for a Trademark License in September, 2008, but never finished the application which is now "dead," according to The Trademark Hound.
Brandy (gag) Melville does not advertise. Instead they use their young, stereotypically long-haired sales clerks to try out new products, generate hip Instagram ads, and manage their social media. This article, appearing in Racked National, by Julia Rubin, explains a lot more about all that.
There have been plenty of negative Yelp reviews about some of the stores. The company has also received some negative press from The Huffington Post. Apparently a UCLA student wrote a scathing article about the company first in the Daily Trojan and the Huffington picked it up. (Cheers to writer Rini Sympath for writing it, by the way!) There's also been some litigation against the company, involving the imitation and use of an image on some t-shirts without the artist's (Estevan Oriole) permission. (Guess those California sales girls weren't very well informed about copyright and fair use!)
The carnie return policy alone was enough to make me never want to shop here again. Normally, I'd write a letter to the CFO to point out some of the problems. Since that's not possible, I figured, I'd write a post about it instead. I suspect the fickle market that Marsan is marketing to will switch their minds about where to shop soon enough. In the meantime, buyers beware! Brandy Melville may not be the best place for you, your daughters or nieces to shop.